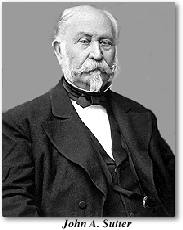 In 1841 John Sutter, a Swiss entrepreneur, received a land grant from the Mexican government for eleven square leagues of the rich Sacramento Valley, not counting overflow lands within the general bounds of the grant. The New Helvetia patent was bordered on the north by three eroded remnants of volcanic cones, the Tres Picos or Prairie Buttes (today called Sutter Buttes). The Sacramento River bounded the grant on the west, the Feather on the east, and the line of 38 degrees 49′ 12″ on the south.
In 1842 John Sutter deeded Nicolaus Altgeier a square mile of land. Nicolaus was born in Freberg, Germany, in 1807, came to America about 1830 and became a trapper for the Hudson's Bay Company. He came to California about 1839 or 1840 and worked for Sutter, who encouraged him to settle at the junction of Bear Creek and Feather River in order that there might be someone there to run a ferry. The spot is called Nicolaus. In Nicolaus's day it was known as "Nicholas Rancho".
The 600-acre ranch was then sold by Altgeier to the Scheiber Family who had migrated from Switzerland in the 1800's. The family operated one of the largest dairies in the valley as well as three cheese plants which shipped California full cream cheese to San Francisco. Other members of the Scheiber family operated three paddlewheel river boats docked at Nicolaus, moving passengers and freight on the Feather and Sacramento Rivers.
"…this river as yet is fully as wide as the Sacramento, but the land much dryer and superior in every way, there are a few settlers. O but I saw many places I took a fancy to, the scenery is magnificent along (the river)."—from the journal of Thomas Kerr, an Irishman in the Gold Rush